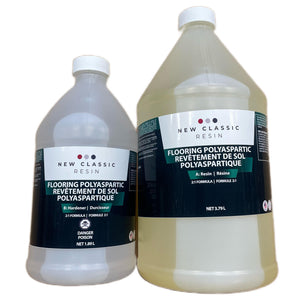 1. Apply Polyaspartic Topcoat within 24 hours after previous epoxy coating is applied. If the previous serface has cured longer than 24 hours, sand the surface with 150-220 grit. 
2. Mix 2 part A and 1 parts B by volume for 2-4 minutes. Mix up 1/2-1 ounces MAX of topcoat per square foot of floor.
3. Pour material into a paint tray and roll topcoat in a thin coating. Roll out front to back and side to side to ensure an even coating. 
4. Recoat when dry to the touch if need within 18 hours of previous application
 Coverage: 1 ounce per sqft application - 200-300 sqft per 1.5 gallon kit